Dates:
Thursday, 3. November 2016
Location:
Hotel Bratislava, Bratislava, Slovakia
Organizer:
Slovak Investment and Trade Development Agency (SARIO)
The Slovak Investment and Trade Development Agency (SARIO)
invites you to the 10th edition of the Slovak Matchmaking Fair 2016 which will take place on November 3, 2016 in Bratislava.
The Slovak Matchmaking Fair is the largest international business–to–
business (B2B) event organized by the Slovak Investment and Trade
Development Agency (SARIO) in Slovakia.
This event
focuses on bilateral talks of the individual
companies as well as the presentation of subcontracting partnership
offers, tenders, available production capacities, joint ventures creation demands with foreign partners and search for cooperation partners especially in the fields of
automotive,
engineering,
energy
ICT

logistics

R&D and innovations.
Why participate?
The Slovak Matchmaking Fair is
an annual meeting of Slovak and foreign
companies, organized by the Slovak Investment and Trade Development
Agency under the auspices of the Ministry of Economy of the Slovak
Republic since 2007.
1.
Individual pre-planned schedule of B2B meetings with the history of 9 years of satisfied participants. You get the chance
to find
new business opportunities and partners from Slovakia and abroad in one day and in one place.

2. Bilateral business negotiations based on pre-planned schedule participants receive beforehand.

3.
Sourcing
- oportunity for Slovak comapanies
to become a part of supplier chain of the established global automotive player-Jaguar Land Rover
4. In cooperation with JETRO Wien, there will be a special event for Japanese companies, the "Japanese Components and Material Buyers' Exhibition".
5. Attractive accompanying program - Joining the Best Address in Automotive Conference, Slovak investment environment presentation and 3D Slovakia - Slovakia as you do not know it.
6.

Unique Slovak prototype of sports automobile Brutal and more surprises.
7. New business contacts and investment opportunities at home and abroad.
8. Direct feedback
, information and individual consultation about selected territories, projects and funding.



9.
Effective informal
networking
during the day and Gala evening, which offers cultural and gastronomic experience.
PROGRAM
2 November 2016
7:00pm - 8:00pm Glass of Wine
Welcome of the participants and evening before the event in the hotel venue
3 November 2016
7:30am - 8:30am Arrival and registration of guests and participants
8:00am - 10:00am Morning Coffee
8:30am – 9:00am Opening Ceremony
9:00am – 2:45pm
Joining the Best Address in Automotive Conference
9:00am – 10:30am

Introduction of Slovak Automotive Production Plants - what kind of the development phase are Slovak automotive plants undergoing right now, challenges they are facing and what do they expect from potential business partners
Ralf SACHT, CEO Volkswagen Slovakia a. s.
Michal Lábaj, Procurement Manager Kia Motors Slovakia
Alev ONUR, Director of Purchasing for Central Europe, PSA Group Slovakia
10:45am - 12:00am

Localization plans, best cost country sourcing, technical support for suppliers – How to join chain of a multinational company; the journey of your company to Tier1 and Tier2 supplier
Herwig JÖRGL, Director Business Development, MATADOR HOLDING, a.s.
Juraj SINAY, President ZAP SR
Robert ŠIMONČIČ, Chief Executive Officer SARIO
Bertrand FAULCONNIER, Operations Director, Business Unit Central Europe, Auto Exterior Division, PLASTIC OMNIUM
Frank TOENNINGES, Executive Director, Technology Center Trenčín, Adient
1:30pm - 2:45pm

Industry in Digitally Connected Age - Industry 4.0, automation, robotization and digital technologies, new discipline: Automotive IT, Digital Single Market EU – trends introduction and available case studies.
Peter MAGVAŠI, CEIT
Vladimír SLEZÁK, Siemens s.r.o., Chief Executive Officer
Anton ONDREJ, Association of Industrial Unions
Peter CHOVANEC, Operations Manager Slovakia & Czech Republic, UBER
9:00am – 12:00am Planned B2B meetings
12:00am – 1:30pm Lunch
1:00pm – 6:00pm Planned B2B meetings
3:30pm - 5:00pm Coffee Break
6:30pm Gala Evening and Dinner (dress code: business casual)

[1]
Working language
English
Pricing
Price for the participation of one person/representative of the event participant *100EUR/* event participant is one business subject/company
Each additional person/representant of the event participant* pays 50EUR.
Total number of the representatives will be filled in the registration form during the online registration.

Accommodation
For your comfort during the Slovak matchmaking fair 2016 go ahead and
book your room with a discount directly in the hotel

[2]

.
HOTEL BRATISLAVA FOR YOU, HOTEL BRATISLAVA FOR EVERYBODY.
Previous year, video ►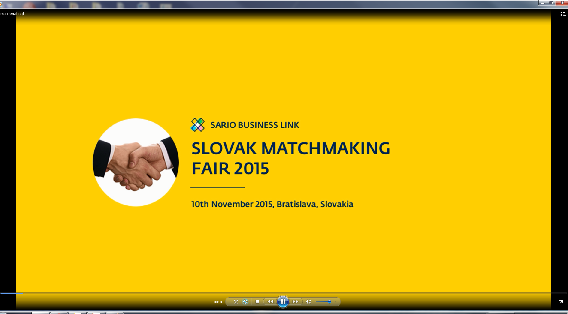 [3]
Photogalery 2015
[4]
"More than 4 000 bilateral negotiations of more than 1 500 registered Slovak and foreign companies from 35 countries in all 9 years combined have proved this event to be the largest of its kind in the Slovak Republic."
—
Róbert Šimončič
Chief Executive Officer, SARIO
Positive feedback of companies proves growing credit of this event
"Slovak Matchmaking Fair is excellent matchmaking event, where you find new customers and ideas how to do your own business better."
ABB, Slovak Republic
"We have been to Slovak Matchmaking Fair 3 times. We had many negotiations and we left satisfied and we will participate next year, too."
Black Sea Business League, Ukraine
"I perceive SMF as one of the most positive events in Czech and Slovak markets."
CRT Electronic, Slovak Republic
"Slovak Matchmaking Fair is an interesting experience for me. Here, it is possible to get good contacts and find potential partners, so I think that SKB is a great benefit."
Schmachtl GmbH, Austria
Contact person
Dominika Dubovská
T: 02 58 260 132
E:
matchmaking@sario.sk
[5]

[1]