The Pharmaceutical & Life Sciences industry in Slovakia is represented mainly by the production of pharmaceuticals, medical devices and cosmetics. Although this industry accounts for a relatively small share on the entire industrial production, it offers great potential for new investors thanks to the constantly developing research.
The presence of numerous healthcare and pharmaceutical inventions is proved by Trisomy Test - non-invasive diagnosis of down syndrome, medical 3D printing of skull, exceptionally sterile material or new protein to repair damaged DNA.
SARIO constantly monitors the development in the selected industries and based on investor´s requirements can prepare tailor-made sector-specific analyses.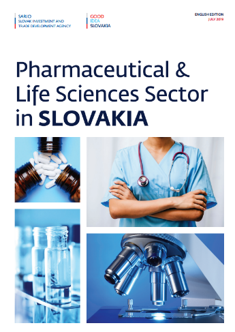 SARIO Pharmaceutical & Life Sciences Industry
[1]
(09/2021)