The Bratislava region is situated in the western part of Slovakia. Although it is geographically the smallest Slovak region, it is also the most developed and the richest one.

The region is a Central European hub, bordering the Czech Republic, Austria and Hungary. In terms of Slovakia's other regions it borders only with the Trnava Region. One important geographical landmark is the River Danube, which is a natural border of the region in the south, and the River Morava, which forms its western border. The region is divided into 8 districts.
The largest recipient of FDI of all the Slovak regions, the Bratislava region has the highest wages and lowest unemployment rate. Some of the main reasons that make this region so attractive for foreign investors are: proximity to Hungary, Czech Republic, Austria and other Western European countries; well developed infrastructure, highway, railway, a naval and cargo port and an international airport; high economic development; concentration of high-educated population and a high level of economic activity of population. Some main foreign investors in the region are Volkswagen, TESCO, IBM, Dell and Slovnaft.
The main sectors include the chemical, automotive, engineering, electrotechnical and food-processing industries. Despite this, Bratislava is the first region in Slovakia where trade and services have overtaken industrial production.
For more detailed information please download the
complete regional analysis [1] on this page.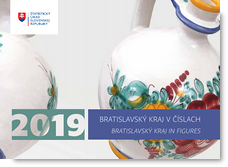 [1]

On top of this statistical information, SARIO can assist investors with
tailor-made labor pool analyses in 1-hour commuting areas including
a list of the biggest local employers and potential sourcing partners.