Slovak aviation industry builds on an old tradition of Slovak inventions, such as a parachute and a helicopter. The old tradition of the aviation inventions lives on, through the prototypes of fastest ultralight aircraft, gyrocopter or the Aeromobil — one of the most sophisticated prototypes of flying–car designed and developed in Slovakia.

Although the space industry is rather a new sector in the Slovak economy, its strong potential originating in great power of related sectors is evident. Today, there are both in aviation and also space industry dozens of successful companies with world-class technology, acting as suppliers to the world's largest players.

SARIO constantly monitors the development in the selected industries and based on investor's requirements can prepare tailor-made sector-specific analyses. The analyses of Aviation and Space Industry are includes in Machinery & Equipment Industry Overview as well as in Space Industry in Slovakia publication.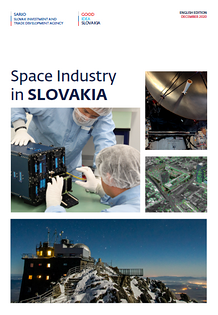 [1]
SARIO Space Industry in Slovakia [1] (02/2021)